I've seen a lot of advice for how to become a consultant that are saying to you to get a degree and become an expert at something.
Well, that's nice, but…
If you're not a professional, highly specialized in some field with a lot of experience, you shouldn't be thinking about becoming a consultant for at least another few years.
But if you are truly an expert in your field, this article is for you. We'll skip all the basics about how to find your consulting niche, get a degree and gain experience.
We'll focus on presenting your expertise & consulting skills to your potential customers, so you can become a successful consultant faster.
Consulting website
It's the home of your online presentation and the main communication channel with broad masses of your future potential clients. Your consulting website is the first place where you can start convincing them to hire you.
In this article, you'll learn how to build a professionally looking consulting website, section by section, in balance with the six keys to consulting success.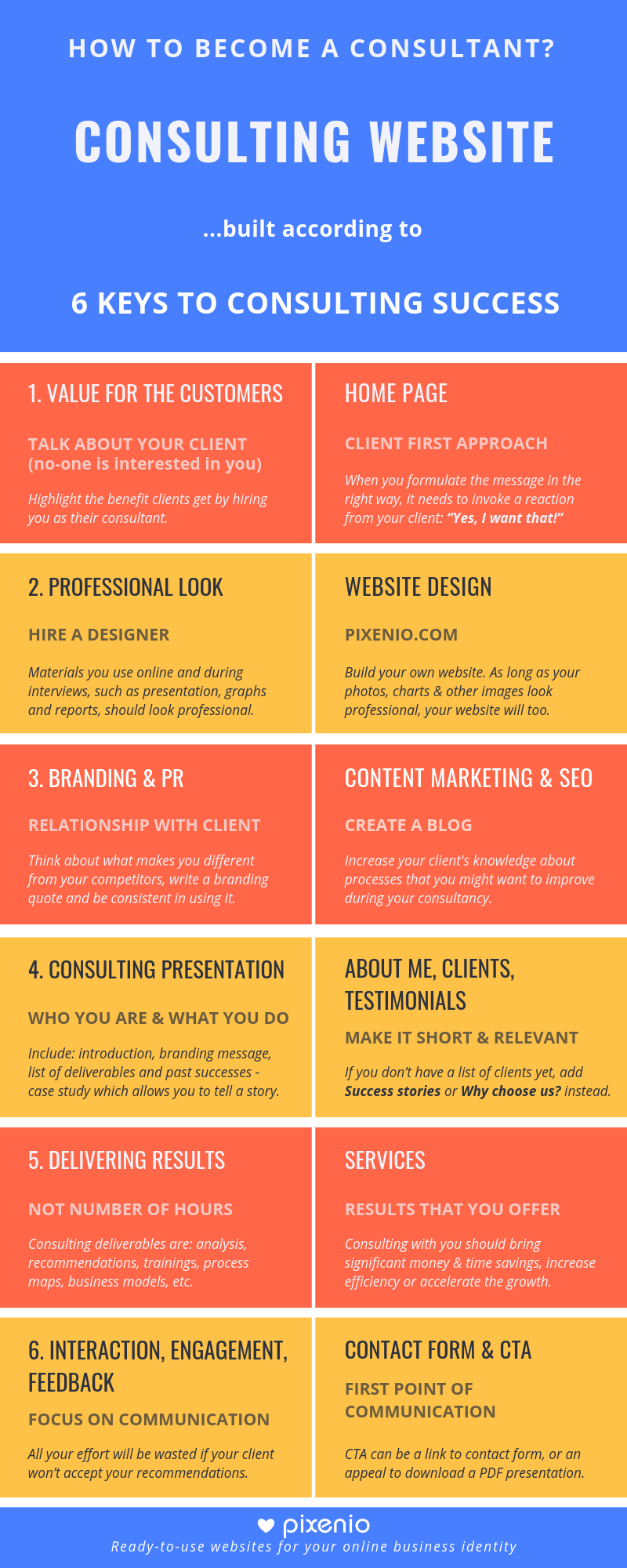 6 keys to consulting success
1. Value for the customer
First and the most essential part of your work as a consultant is a value that you can bring to your client.
Ask yourself questions like:
What is the biggest gain for your client when they hire you as their consultant?
Why does anyone need a consultant like you?
Is consulting that you provide worth the money?
Write down the answers to those questions, but remember:
Talk about your client. No-one is interested in you.
Why small, medium and large businesses hire external consultants?
Because they need to:
Solve a particular problem (which costs them money).
Increase efficiency (to save money).
Avoid potential risk (which might increase their costs).
Complete a task or project that they don't have internal knowledge or capacity to accomplish (it would be too expensive to build an internal resources for it).
Improve certain area to accelerate the growth of their business (to earn more money).
I'm sure the point is clear. The only motivation behind hiring a consultant is: THE MONEY.
That's what you need to formulate and present to your client sensibly, professionally, but clearly.
Consulting website: Home page
Not looking at what YOU can offer to a client, but seeing the client's needs and desired results is called client first approach. This is what you should do in a homepage of your consulting website.
When you formulate the message in the right way, it needs to invoke a reaction from your client:
"Yes, I want that!"
"Yes, I need that!"
"Aha, that would be helpful."
You might find the right words for communicating your consulting expertise when you focus on the knowledge gap that's common among your clients. Give them a hint upfront so they see that you understand their challenges and hold the answers.
2. Present yourself in a professional way
First key to consulting success was all about your client and their needs. Now let's move on to you as a business consultant who everyone wants to hire.
First impression and professional look shouldn't be underestimated as it can certainly help you win a great contract.
Business consultant professional impression essentials:
The design of your consulting website.
Online materials - presentations, graphs, case studies, etc.
Printed materials - business cards, flip charts, worksheets, binded reports…
Dress code
Good communication skills
Consider hiring a designer to help you with the materials you use online and during interviews with clients. Neat, professional design will add extra value to everything you want to say.
Consulting website template
Your website design doesn't need to be complicated at all. In fact, simple and clean design can look very professional. See for yourself in our gallery of examples: Consulting website template.
These are just a few examples of websites that you can create with Pixenio. We provide a technical solution - a website that works, loads fast and looks good. What's left to do for you? You add the content (text & images).
As long as your photos, charts & other images look professional, your website will too.
3. Branding & PR turn into individual relationship with the customer
So far it's going very well for you. You've proven that you can provide value for your client and left undeniable professional impression. Now it's time to gain trust.
If you think that words like branding and PR are only for the big companies, you're wrong. They're very important for you as a consultant as well.
Branding is creating image of the company in the eyes of potential customers.
It helps you stand out from the crowd as your clients can distinguish YOU from the others.
Good branding often results in certain expectations towards you (from your customers) and therefore increases the trust.
PR or public relations is the way you communicate with the outside world. This is how you create that branding image. It's the information that you make publicly available about yourself or your consulting practise (e.g. in a blog, on your website)
Branding for consultants
Every big company makes sure all of the employees understand their branding and are being consistent in presenting it to the clients.
That's exactly what you should do too.
Think about what makes you different from your competitors, formulate a clear branding message and be consistent in communicating this message to the world.
Be consistent in your branding:
use it on your website,
use it in your materials, and
incorporate it in your behaviour towards clients.
I suggest you put your clients first once again and talk more about them, not about yourself. Incorporate the value they get by hiring you into your branding message.
Make sure you have your branding in mind each time you talk to your clients.
Branding is a first step in establishing good relationship based on trust.
In relation to your client, you as a consultant:
obtain access to sensitive internal information,
provide inputs for decision making process,
share your knowledge and expertise,
gain more experience yourself.
Of course, all those aspects will also be regulated in a written contract. But remember:
Each client is your future referral that will help you grow your consulting business. It certainly deserves your effort in building a good relationship.
According to 2018 Consultants Study: "43.7% of consultants said that referrals were their highest earning money-making marketing tactic."
Consulting website: Content marketing for consultants
There are 3 ways of how your potential customers might find you online:
Paid ads - if you're interested in running an Adwords campaign, you can do so at https://Ads.google.com/. Your campaign can be nicely targeted to the group that is most likely to convert to your customers.
Search based on the location - set up your Google My Business Account.
Content marketing - useful information, usually shared through blog posts, that will be displayed in search results in Google and other search engines.
Why do consultants need content marketing?
Content (useful, high quality content, to be specific) is what Google wants. It will increase the visibility of your website in search results and give you higher credibility.
Not everyone is looking for business consultant. Sometimes your clients might google a problem that they face and get to your website which is offering a solution, as well as your consulting services.
Creating a blog on your consulting website will let you:
build relationship with your potential customers,
show your expertise,
share your insights,
describe trends in your industry,
explain how the analysis are being performed,
showcase outcomes of your work (in a general way).
Increase the knowledge of your clients about the processes that you might want to improve during your consultancy. It will make your work easier in the long run.
4. Consulting presentation
Consulting presentation is a document (or slideshow), that shows your future clients who you are and what can you do for them.
When creating your presentation, you need to find a balance between presenting services that you offer and your past successes. Too much of each won't leave the best impression.
What to include in consulting presentation?
Introduction (who you are - your CV abstract in a few sentences).
Branding message.
List of deliverables - in a compelling way, explaining the value for the customer.
Past successes in a form of a case study that shows the problem, your solution and quantified results.
Dedicate significant amount of time to preparation of your presentation. It needs to be packed with a facts and hard data. Do your analysis and get familiar with your client's background, industry and possible challenges.
Consulting website: About me, Clients, Testimonials
Core of your website will be information you usually include in the consulting presentation on the first meeting with a potential client. Someone looking for a consultant can read it online beforehand, which saves time on a first meeting as well as increases your chances of being hired.
About me
This is a place to speak about yourself and your team. Make it short and relevant. Start with the most impressive facts, followed by your recent successes and back it all up with your education.
Clients
List the biggest clients you've worked with (if not against the contract).
This section is not necessary, but can certainly motivate other clients to choose you over some other consultant.
What if you don't have list of former clients to present?
If you're just starting out your individual consulting career, focus more on your expertise. You can replace section Clients with Success stories and write about some projects you've participated on in the past.
Alternatively, you can emphasize your branding message by adding section Why choose us? Here you can explain how you differentiate from other consultants.
Testimonials
Neatly looking testimonial with a photo of a person giving it is a very strong convincing tool. Make sure you leverage from it on your website. Don't be shy and ask for a testimonial from someone you've worked for before.
If a person doesn't feel comfortable about disclosing their full name and company they work for, you can use initials or first name only, alongside with a general description of their work position.
5. Delivering results
Your clients are interested in the outcome and, at the end of the day, in money they can save or earn by hiring you.
Formulate your proposal in measurable results that will benefit your client, not in the number of hours that you spend working on the project. It's up to you to calculate the time vs. money ratio to make the final contract attractive for both sides - yourself & your client.
However, bare in mind that becoming a consultant for certain company does not make you it's CEO so it's not in your hands to implement changes required to save time, increase quality, effectiveness and achieve desired & calculated cash flow. Therefore you cannot be held responsible for those either.
What results can a consultant deliver?
Business consultant brings a new, external insight into the company:
Consulting deliverables are:
analysis,
recommendations,
training & coaching,
customer surveys,
process maps,
software interfaces,
business models,
knowledge management tools,
pricing models,
performance dashboards, etc.
These deliverables are often elaborated into a document or report and presented to the representatives of the client's company via Powerpoint presentation. You can also agree on completing a training session or workshop instead of a presentation, or provide a project management.
Receiving payment for your consultancy
When you agree on certain deliverables with your client, you must also set the timeline for delivering them.
Payments for your work should be linked to the results that you've delivered. E.g. if you agreed on completing a training session, you should get paid immediately after it.
Try to avoid engaging in an open ended consulting when you'll be spending endless number of hours for the client and not seeing any money. Client will be constantly coming to you with some new tasks and will never be happy enough with your results or recommendations.
Consulting website: Services = Results you offer
Show your clients what they can get with your help. There are 3 most common ways of presenting services on your website:
List of all services that you provide.
Groups of services for a specific clients or types of consultancy.
Consultancy packages for your clients to choose from.
You can be as specific on your website as you want. It depends on the nature of your consulting field if you can say upfront what deliverables will you provide or it's necessary to discuss the specific needs of your client first.
In each case, be truthful about what you can deliver.
6. Interaction, engagement & feedback
Mutual communication is very important throughout the consulting process.
At first, you spend many long hours gathering information, analyzing and forming the best solution for your client. However, all this effort will be wasted if your client won't accept the proposed action plan.
You as a consultant must find the most appropriate way to communicate your message.

If you're standing in front of a tough task of delivering negative feedback, don't try to sugarcoat it. Look for the most appropriate way of saying it instead.
Example
You're working with a team of your client's employees who are not very concerned about completing their tasks on time. They also don't seem to respect their boss at all.
Sugar coating:
"Your employees like you and perceive you as a very friendly person. They also know that you're very understanding in case there is some delay in a working process. I'm just not sure they're really doing their best at work."
Straight forward message:
"Your employees lack respect towards you and therefore deadlines are being missed on a regular basis which is affecting your returns."
More constructive feedback:
"I've noticed that in your team, there are no effective procedures in place for tracking the progress and finalizing the tasks within the deadline. Missing deadlines regularly is affecting your returns."
Some managers will see the point you're trying to make for themselves, even before you say it, after you walk them through the hard data. Then you can work on improvements that should be made together.
Consulting website: Contact form & Call to Action (CTA)
Your website will most likely be the first point of communication with your future client.
Establish the good communication from the start. Let your clients know that you're interested in hearing their feedback, encourage them to talk to you.
CTA or Call to Action point of your website could be just a link to your contact form, or it can be an appeal to download a PDF with your presentation or detailed list of services.
When a client contacts you, or give you their e-mail address to get a PDF presentation, you get a chance to establish the communication and offer a meeting in person.
Any interaction from your potential clients is good and can lead to a consulting contract.
Conclusion
To first start as a consultant is not easy thing to do. It takes time to build a trust without a solid base of former clients to backup your expertise. Building a great, professionally looking website with all the essentials will certainly push you forward.