Over the past few weeks, we've been working on developing other useful features to make Pixenio better. We decided to incorporate some of them based on your feedback. As these changes are already live, you can make full use of them straight away. This article will tell you more about these features.
If you don't have Pixenio yet, create an account today and try Pixenio for free for 14 days, check it out.


New features for articles
Change of Publication Date
Each blog post has a "Published on" date. We've added the option to manually change this date to work more effectively with blog posts. When switching from another web platform to Pixenio, you can manually change the Publication Date especially for old articles. Those ones that relate to past events, e.g. an article about a major change in your company.
And vice versa, changing the Publication Date from the past to the current day is useful for search engine optimization. Along with extending the article's content with new information, change its Publication Date too. Subsequently you can request the post to be re-indexed in Google Search Console a let the search engine know that it's an updated post.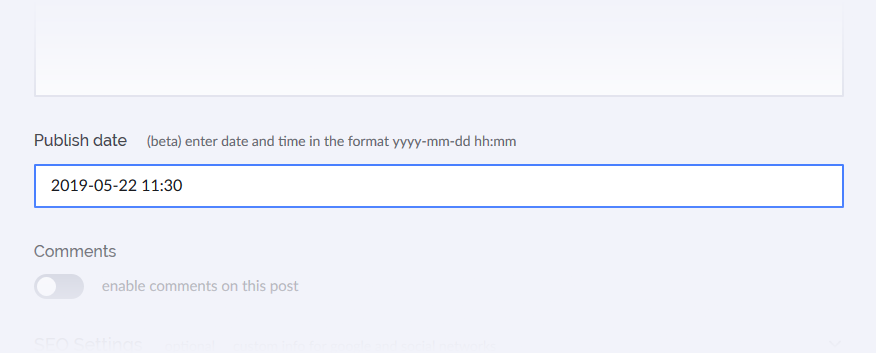 Scheduling article publication for a specific day and time
Blog post can be published immediately or scheduled to be published in the future. If you know, based on your statistics, when it is the best time to publish an article, or you have a long-term editing plan, you will certainly use this feature. Now you can set an exact time in advance for its automatic publication in the future. This allows you to manage individual articles in a more efficient and faster way.
Scheduling works quite simply. All you have to do is to type the Publication Date in the format explained in the help and click on Save. You can still edit the post and view it as a signed-in administrator.
Time Zone
In the last update, we added a Time Zone option for the website. Choose it according to the location where you are. Blog posts and comments will be displayed based on this time zone. You can change the Time Zone in Settings -> General.
Posts will be published at the selected time and date according to the set time zone. Also, the date and time of a comment added by a visitor from another time zone will be recalculated to the time as per the time zone set in website settings.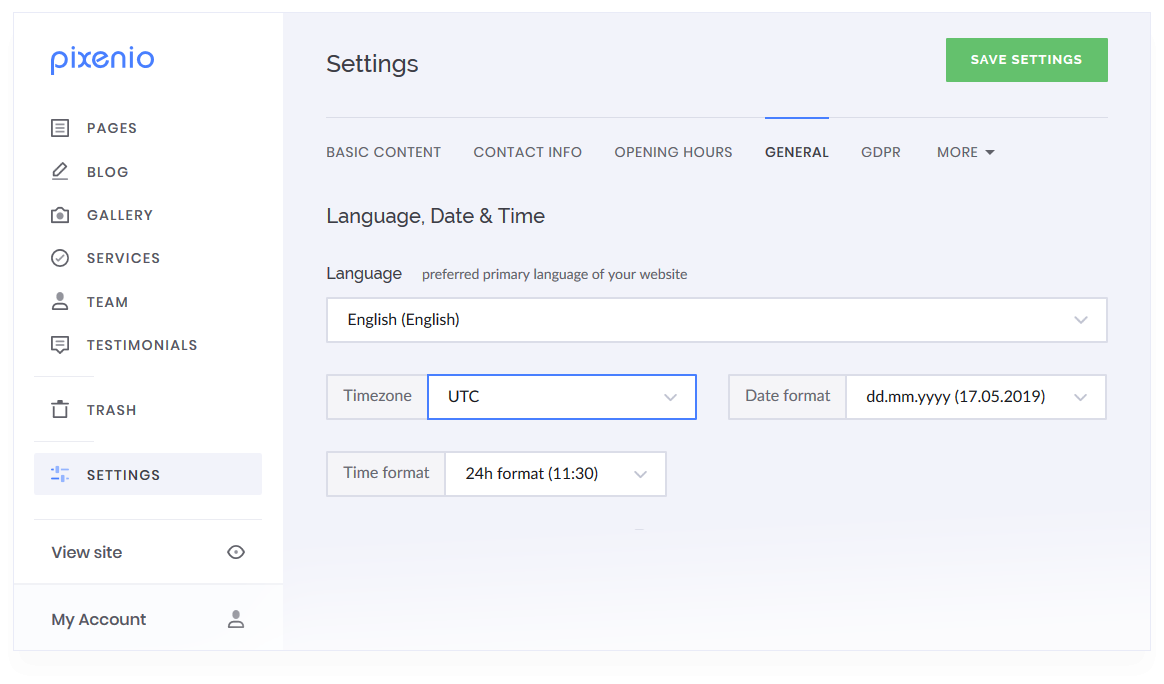 Embed codes
Another feature that has been added to the admin interface is the ability to insert custom codes. Thanks to this you can add any html code or content link to the webpage. Whether it is a third-party plugin (such as a reservation plugin) or a YouTube video, you can enhance your website and add specific features.
With this feature, you can create an article where you include e.g. an instagram post. Just copy the link.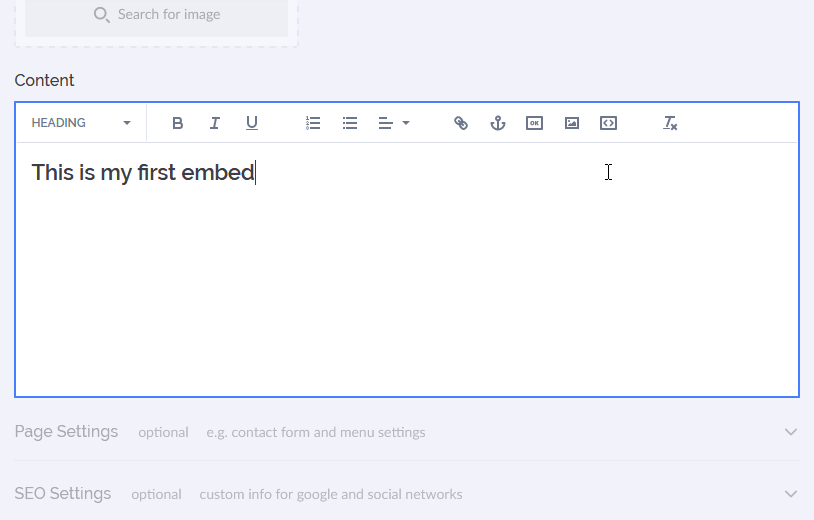 New feature for SEO
Site map
The generation of a site map (sitemap.xml) serves as a tool that helps Google and other search engines to be able to view and index all your sites more efficiently. As this file includes the complete website structure, Google will also notice those subpages that e.g. aren't available directly from the main menu.
The presence of a site map increases the number of searchable pages. This means the more indexed pages you have, the more visitors arrive to your website from organic search.
New features for images
Design effect lightbox
There's been a new effect added to the gallery for the pop-up display of images into a modern lightbox. When you click on an image in the gallery, it opens to a larger size. You can also see this change when viewing a website on mobile devices - simply slide your finger across the screen to browse through gallery images.
Title and description display
When creating albums, you can enter a title and description for each image. This data is displayed directly below the image, even in the lightbox view. It's practical because if user views individual images in lightbox view, there is no need to switch back to see their description. This is handy e.g. when you want to present your portfolio - you can provide a few basic data for each of the projects you have completed.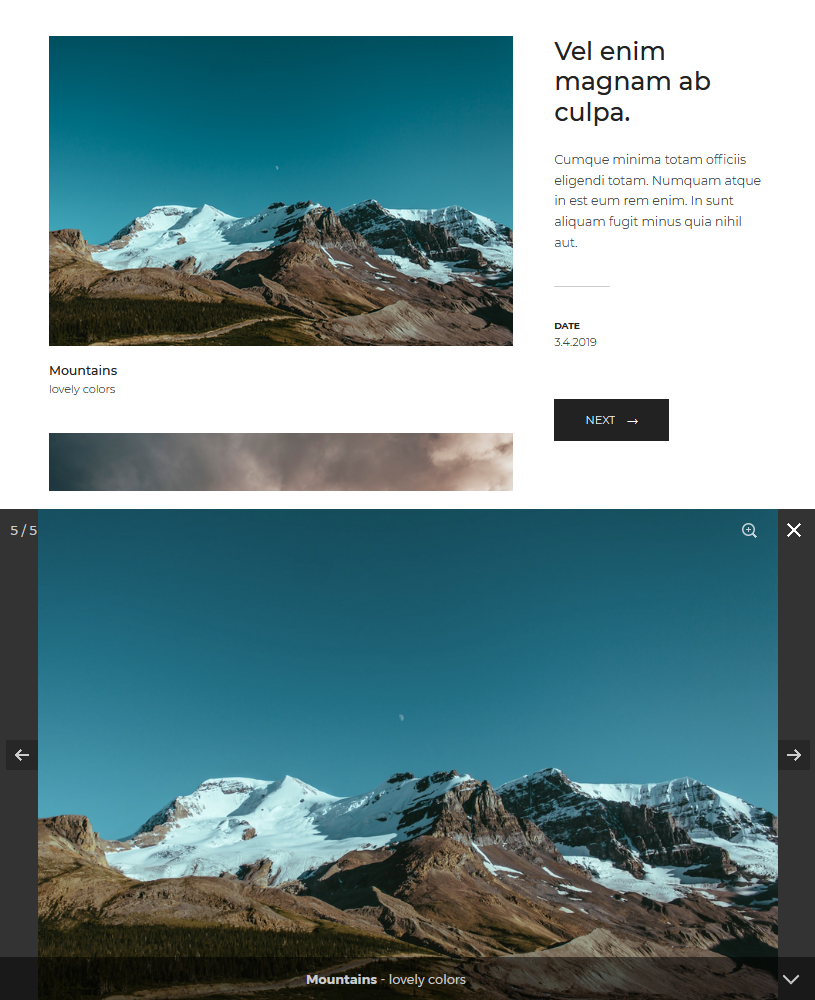 In the admin interface, the title and description can be edited by clicking on Edit when you're on the particular image in the gallery.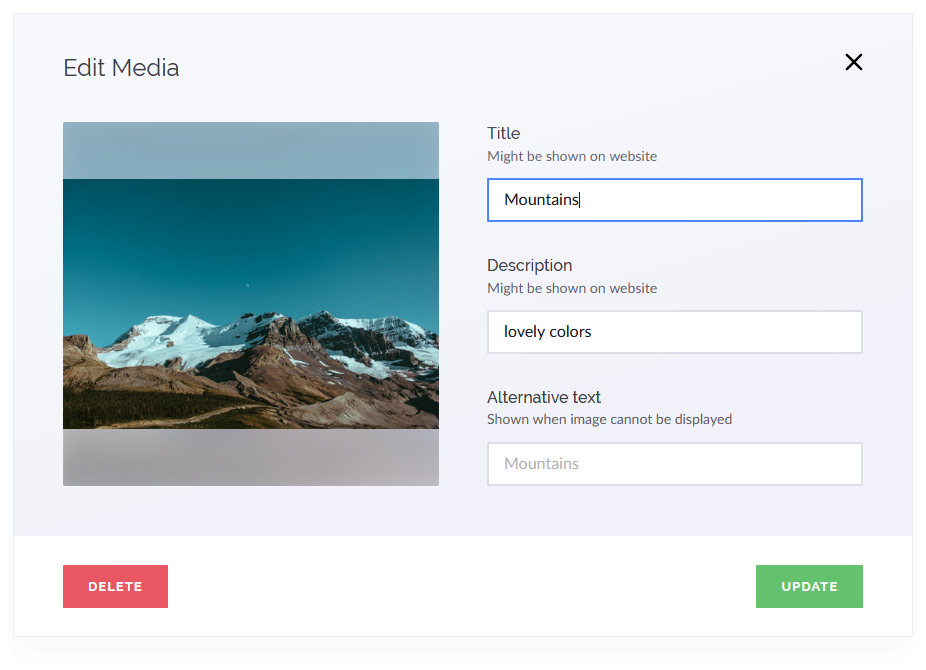 Stock images
Until recently, it was only possible to upload your own images from a computer drive or mobile phone gallery. Now, you can use other authors' images too if the licence terms allow it.
In order to simplify the website creation process, we've added a great feature - thanks to connecting Pixenio with Unsplash you can search for a suitable stock photo directly in the web admin. This brings you a huge database of high-resolution photos at your disposal for free. The licence authorizes you to use the photos on commercial websites.
Simplified feedback
Haven't you found what you're looking for? Tell us! Pixenio is a platform for absolute beginners in website creation. Keep in touch with us and shape the future of Pixenio. Now you can tell us even easier. By clicking on Feedback tab in the web admin interface, you can express your opinion either verbally or via numeric rating.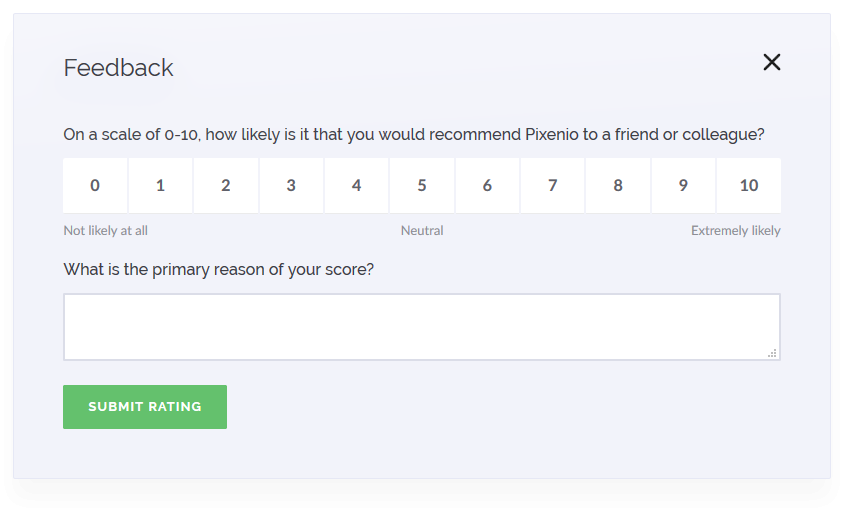 We're constantly working on new features and enhancements. Let us know what biggest problems with creating websites you have.