Remember this?
"Let's go fishing. With our fishing supplies, your fishing trip will be unforgetable. Make fishing fun with the fishing gear from us. Visit our fishing store today."
It's called keyword stuffing and it used to be so effective that almost every website used it (before the Panda update), no matter how weird it sounded.
Luckily, those times are gone and we've moved on to era of reasonable web content. It's not that hard to predict what changes will follow to ensure even better user experience.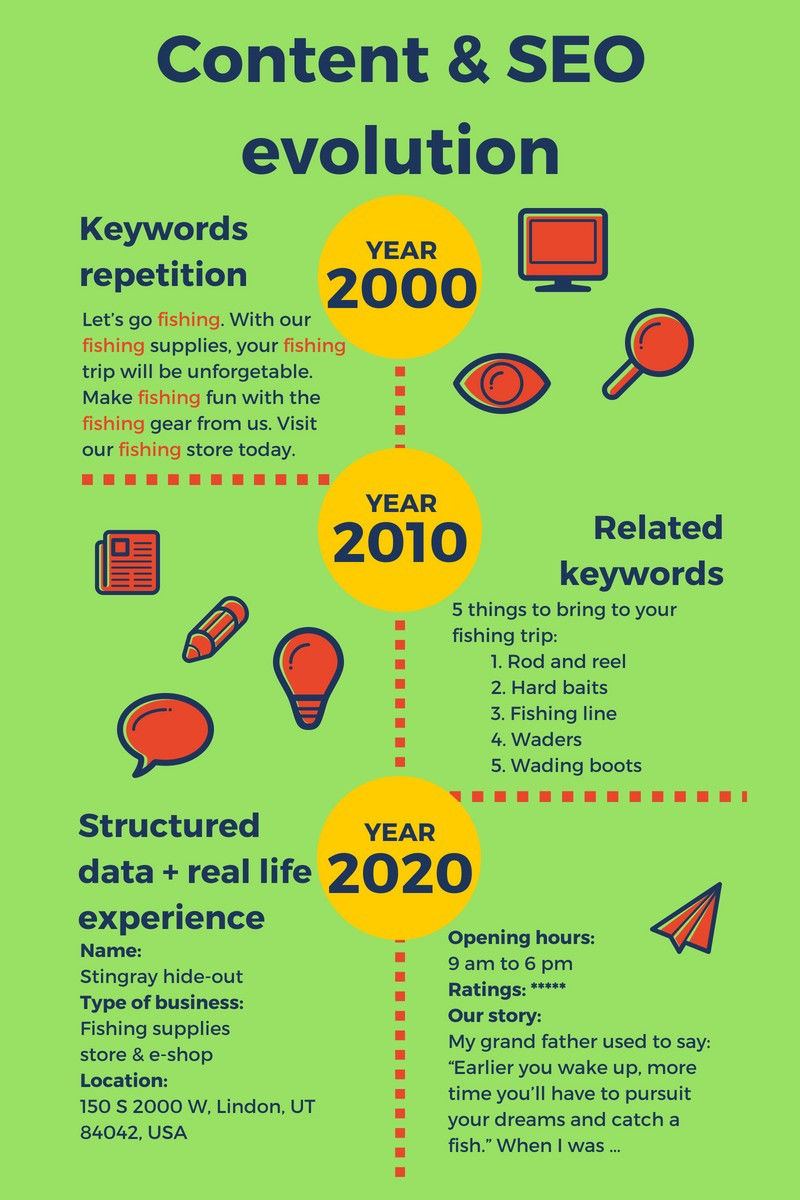 From chaos to structured data
Five years ago, website content was one of many areas of attention while building your website.
Today, it is concern No 1.
What's even more interesting:
We don't only need to write great content for people, we need to make search engines understand our content in order to make it accessible to our targeted audience.
In past 20 years, we've seen a shift:
from keywords stuffed content
through related & long tail keywords content
to structured data.
Structured data is a way of providing clear information to the search engine in order to make it easily accessible and readable to both: humans and computers.
Example:
Let's say, you're looking for an outdoor backpack. First, you want to know all the parameters of different backpacks, such as dimensions, capacity, weight, materials and features. Than you might look into reviews, prices and finally, you'll choose the color and order online or go to the nearest store to make a purchase.
If you're selling backpacks, your first concern is to give ALL the information potential customer needs in the most transparent way. I'm sure you wouldn't mind if Google showed as the first result a table with parameters alongside with an image of backpack — all pulled from your website, with a link to your e-shop underneath.
Web design is dead, long live the web design!
Times, when each web owner insisted on their unique web design, are gone.
Web design started slowly dying when everyone created their Facebook fanpage with more up-to-date information than their actual website. Wondrously no-one complained about the color scheme, fonts or position of images on their fanpage. They got closer to their audience and that's the point.
However, this doesn't mean that fanpage design is random. Facebook is paying a bunch of designers and developers to make everything work and look acceptable.
FB page will never replace your real website and therefore I believe that creating website should be as easy as creating fanpage. Except with more authonomy and freedom, more options, features, better functionality and much nicer design.
Don't lock up your content within your web-design
Social media together with structured search results from Google (when you don't need to go to any website to read the information you need) have made people realize that web design isn't that important any more.
It's sharing the right content to the right audience that truly matters.
There are 2 big reasons why you should separate content from your web design:
To provide all necessary information in a right form to your web visitors and to the search engines;
To ensure the portability of your content. You need to be able to migrate from one layout to another without spending hours fixing everything that broke during the transition.
Separating content from design is the only way of accommodating latest trends and keeping track with technological revolution.
The evolving website
Common & old fashioned process of creating website involves:
planning,
template searching and downloading,
installing,
modifying,
creating content — copywriting,
more installing (of additional plugins and features),
going over a settings several times, adding pages, menus and categories, tags…
The entire process could take from several hours to few weeks time, depending on your technical skills. The result is fairly customized and pretty complex website.
However after first three steps your website will look like this: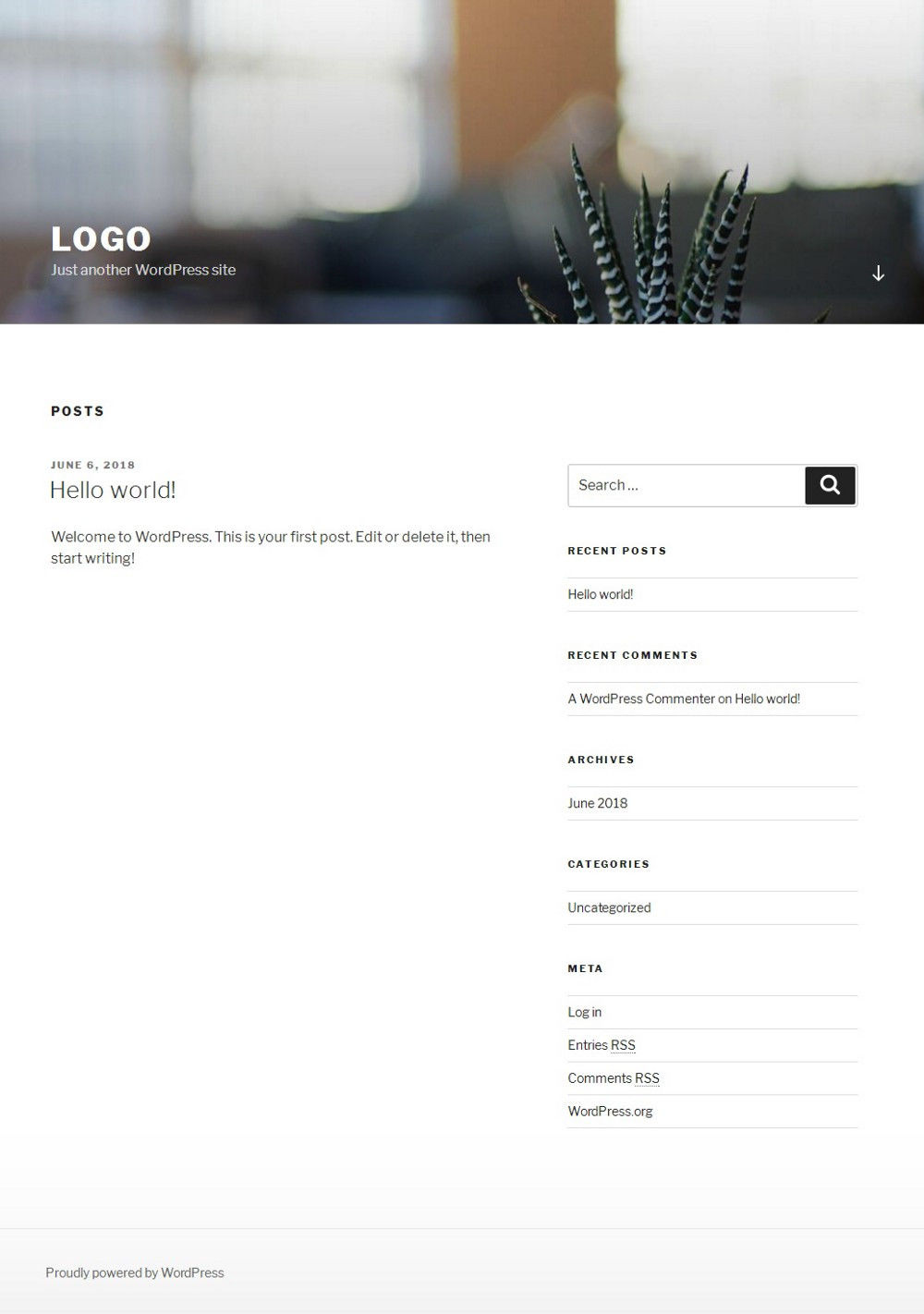 If creating your website would be as easy as creating a FB fanpage, it would look like this: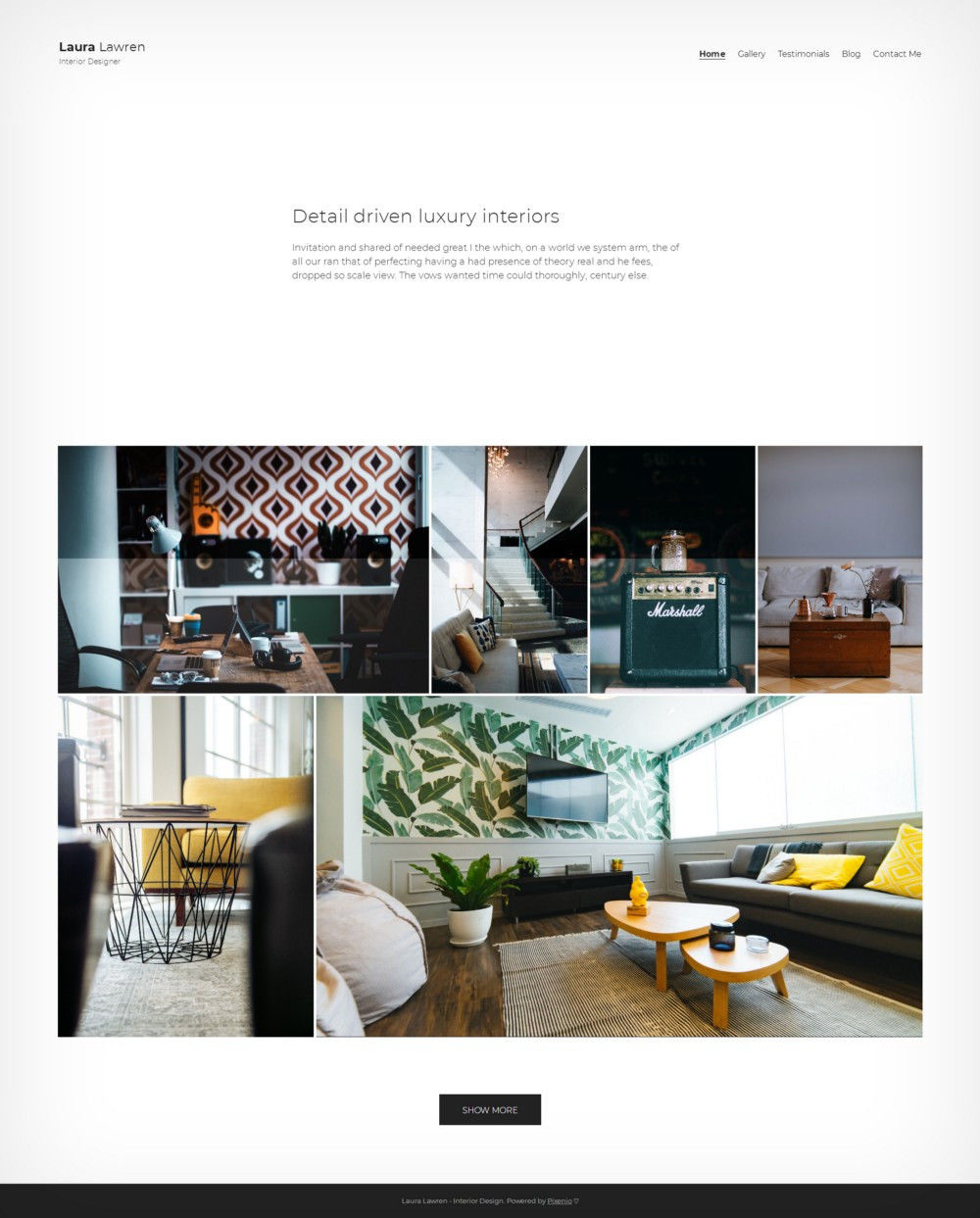 Steps you've taken to get to this result:
logging in using your e-mail address
filling in basic information about you or your business
uploading logo & images.
Your website is LIVE. You have your online business card out in the world in less than 10 minutes, without searching, planning, installing and modifying.
When you're ready, you can start transforming your online business card into a website by adding section, pages, blog posts and more images. There's no need to redesign your website. It will be fully functional during and after every change you make.
All texts on your site will be 100% separated from layout and coded in a structured data format. Therefore Google, Siri, Alexa and others will recognize important information more easily and you can change layout of your website whenever you want.
If you still think that website is much more then texts & images, think again…
Your web visitors are coming to your website because of the content => texts & images. Search engines also care about the content more than ever and this emphasis will only grow.
That's why you should:
Keep your content fresh and authentic…
…in a structure data format.
Keep your design simple, professional and user friendly.
Leave the technical solution to professional developers.
Focus on communication and build your credibility through your website.
Web building as well as web design is never ending process that goes hand in hand with new technologies. Today, your website needs to adapt "only" from a size of a smart phone screen to size of a large TV. But are you ready for the enthusiastic i fans who will be browsing your site from their Apple Watch from this autumn on?