Creating a restaurant website or bistro website has its own specifics. Food websites need to catch visitors' attention at first glance - because the look of the website is what can entice customers to visit the restaurant. That's the main goal. And this goal can be achieved only when the restaurant website design follows the latest trends and principles that we're going to explain you in this article.
You're going to learn more how the restaurant website should look like and what's better to avoid if you want to be successful.
The most important element of restaurant website design are photographs
First of all, we need to think about why people go to restaurants. These are mainly three main reasons: tasty food, pleasant atmosphere and friendly staff. If your restaurant boasts all these attributes, it's good to show it on the website too. And for this you need an airy design with high-resolution photos standing out against the background.
What photos to use?
Since it's a website of your restaurant, photos must be real. Never, under any circumstances, use stock photos downloaded from internet!
You have to show your culinary art, your team and your restaurant premises so people can better imagine how they're going to feel at your place. Therefore the best solution is to invest and hire a professional photographer who will make great photos for you. This is certainly something worth spending your money on.
1. Photos of meals
Get started with photos of meals you're offering. Just as is the trend to use fresh seasonal ingredients in the gastronomy, it is also advisable to adapt the photos on your website to make it always look up-to-date. Even the best restaurant websites put emphasis on highlighting their current menu. Limiting the menu to seasonal food also tells a few very important facts:
Your food is always fresh, because the the use of raw ingredients is limited by the season when they grow and mature
Customers won't postpone a visit to your restaurant as they know that the particular menu will be available for limited time only
Regular customers can always enjoy a new menu and taste different meals
The regular addition of new photos depending on your current menu means that there will be new content added to your restaurant website regularly, what will be appreciated not only by your customers, but also by Google.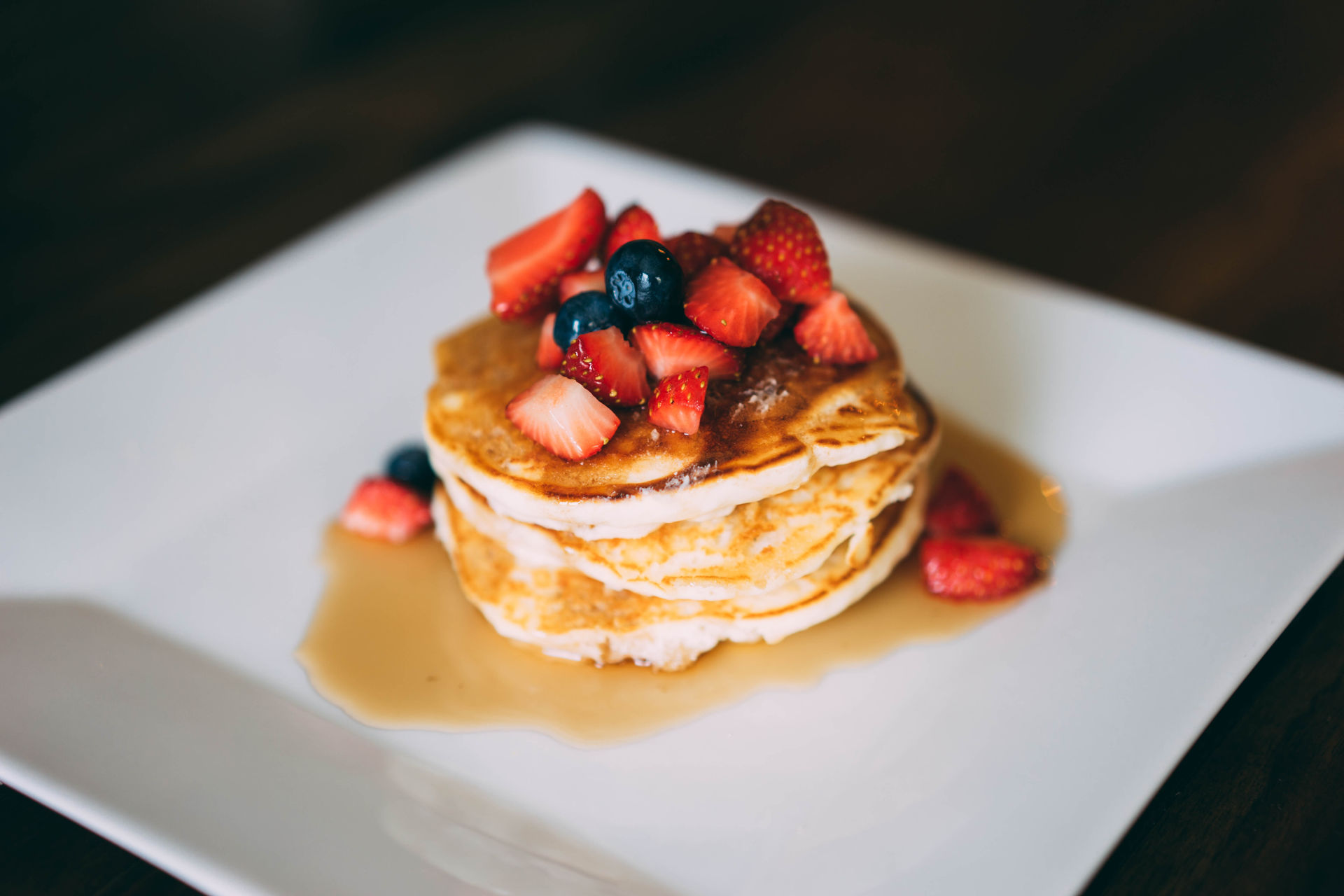 2. Photos of chefs
If you're making restaurant website design, you should definitely use at least one photo on which you show the team of chefs and other staff - simply people who are behind the restaurant.
Do you cooperate with a baker who bakes fresh pastry for you everyday? Or with a local farmer supplying organic meat at the highest quality? Make sure you mention it on the website and back it up with real photos. This way, you can build your customers' trust and win favour with them.
3. Photos of the restaurant
It is good to incorporate photos made directly from the restaurant premises into the design of the restaurant website, so visitors can imagine what type of restaurant it is. Whether it's a luxurious Mediterranean restaurant or a relaxed Hipster bistro with modern Vegan dishes, you have to capture the atmosphere of the place as faithfully as possible.
Because it's never just about food itself - it can have 3 Michelin stars, but when the customers don't feel good when looking at your restaurant website, they just won't come in person.
How should the MENU look at the restaurant website
When creating restaurant website, the key is to place the menu appropriately, so that it is available immediately without excessive number of clicks. This means it should be located directly in the main menu of the website, in the navigation bar (never hide it within some sub-page).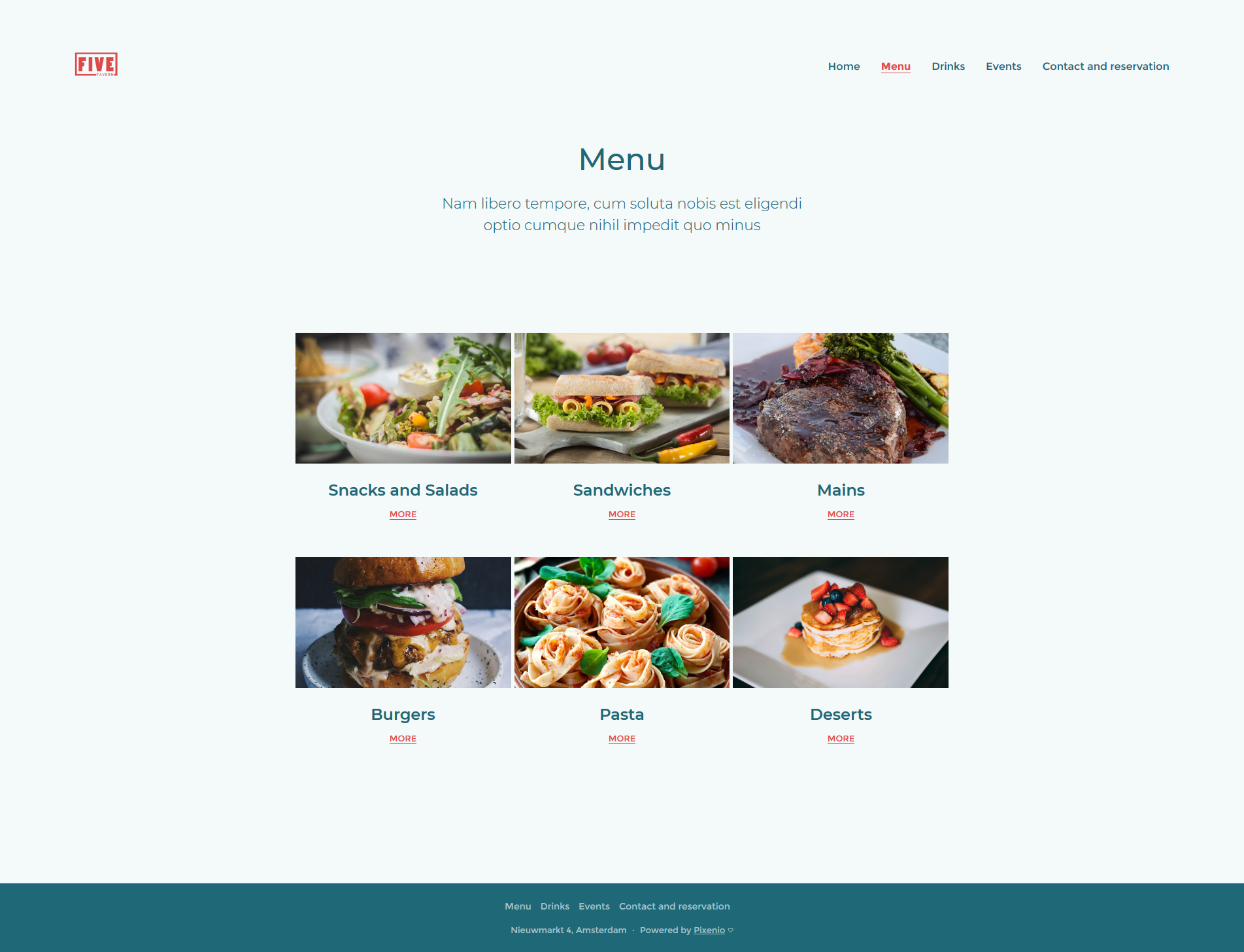 The easy accessibility of the menu is mainly related to the usability of website when browsing on mobile devices, as mobile phones and tablets are becoming the main source of web traffic. This is also directly related to how the menu should look like. The optimal solution is to create menu that is well organized, e.g. by type of meals (appetizers, main meals, desserts…).
Some restaurants offer daily lunch menu, which is specific as it changes every working day. In this case, we strongly recommend separating it from standard a la carte menu - you can add it as a separate item in the website navigation panel or place it within the homepage.
This ensures that customers can quickly view your daily lunch menu with just one click even on their smartphone.
The biggest mistake when creating a restaurant menu
The most common bad habit of restaurant websites is adding the menu in JPG or PDF format. Regardless of whether it is a PDF document or a scanned image of the menu, in both cases the menu acts as an image. There are several problems with this solution:
Longer page loading - it has a great impact on bounce rate of your website
It negatively impacts website ranking from Google's point of view
PDF might not display properly in the responsive version of your website when viewed on a mobile device
All this can significantly weaken the position of the website in the search results and negatively affect the website traffic, therefore never publish your restaurant menu in JPG or PDF format.
Presentation of events and special offers on the blog
It may seem like including a blog section on a restaurant website is pointless at first glance. Well, that's not entirely true. The blog should be perceived in a broader context and not just as simple writing of articles on a specific topic.
You can use blog for example as an invitation for a forthcoming event - a gourmet thematic dinner with a multi-course tasting menu, wine tasting, or even a cooking course. You can also use it to present the catering options that the restaurant can provide for weddings and other festive events.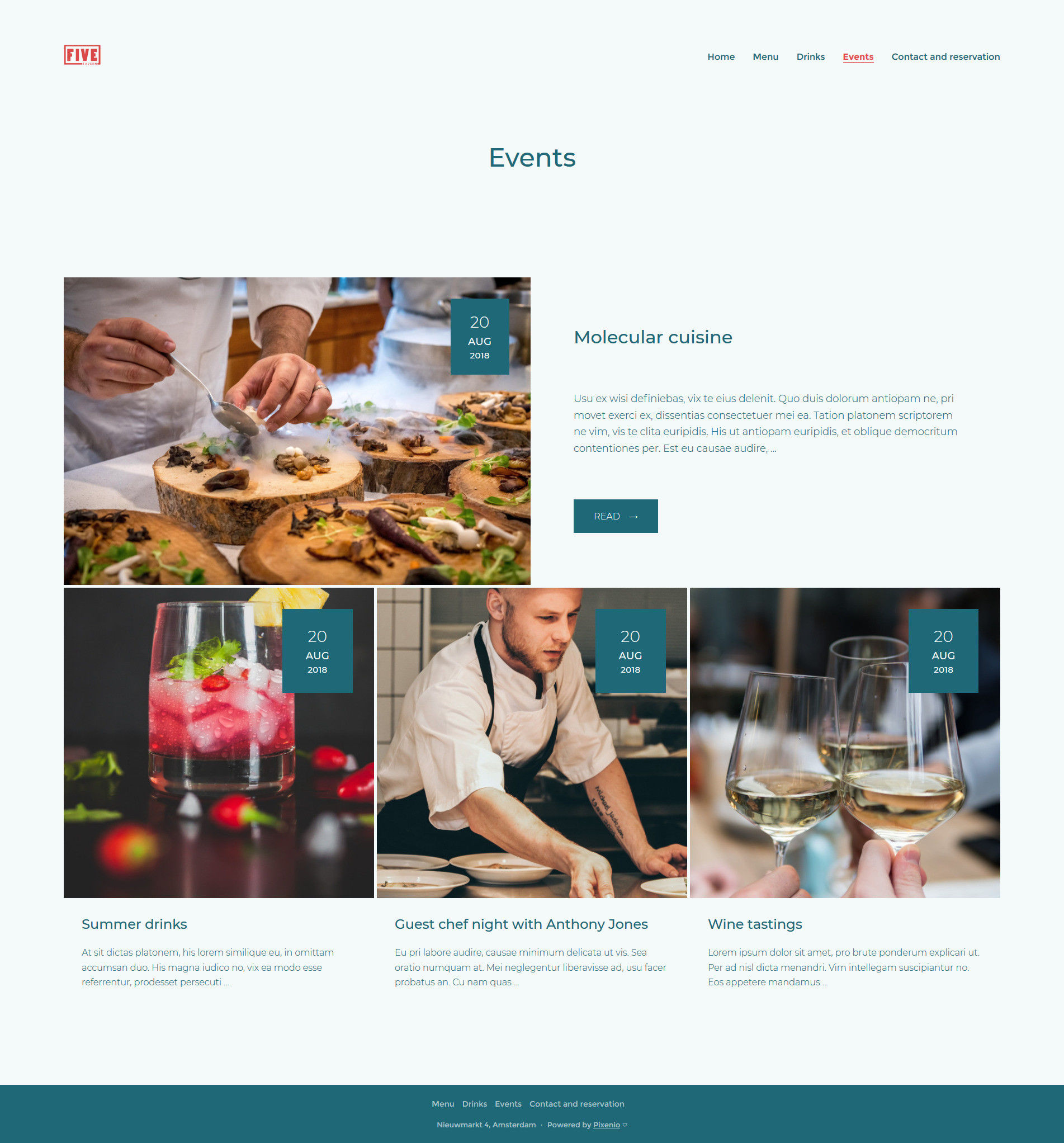 Good restaurant website design is not enough
Although the design itself is key, the usability and accessibility of the website is also important. As we've already mentioned, visits from mobile devices are on the rise, and therefore the website needs to be loaded quickly. In addition, it should be optimized so that it can be easily found on Google. It will not be amiss to set up Google My business account that will allow your website to get to the restaurant map of the neighborhood where it operates. At the same time, it will provide basic information about it.
The added value is if your restaurant website is based on structured data, allowing for practical voice searches through various voice assistants.
Once a visitor comes to your restaurant website and wants to visit it in person, it's important to make the contact information available and provide an option to book a table. Restaurant websites built on WordPress platform usually provide reservation functionality by installing some third-party plugins; sometimes plugins are used for hosted websites too. But usually you do not need a special plugin for reservations and a simple contact form with a few inputs is comfortable enough.
How to create one of the best restaurant websites? Choose a restaurant website template
If you remained reading this article to this point, you already know what you should/shouldn't do when creating restaurant website. We've explained you the basics of good web design and have given you an idea what photos you should use on your website. We've also brought you some tips on how to arrange the menu and explained the importance of accessibility and usability of the website from the mobile devices. So now you already have a better idea of how to proceed.
So what platform, framework or hosting service to choose for your restaurant website creation?
There are several options available:
You can reach a professional developer who can make a tailor-made solution for you from scratch (the most expensive option)
You can try to build the website yourself using some open-source platform (relatively cheap, but the most time-consuming option, unless you're proficient in programming or website coding)
Create your website via Pixenio
With Pixenio, you can make your website in minutes with just a few clicks - thanks to the pre-designed templates. You just insert content and images, select the theme and the layout and it's done! Every theme is designed so that it fits your needs and you can use it as a restaurant website template.
The result is a professional looking website that meets all the requirements and trends we've outlined in this article. It's extremely simple to create at a very reasonable price.
Create your own website on Pixenio and you'll get one of the best restaurant websites!